Hawaii, 100% Kona coffee, kona, Big Island, coffee, farm, world famous, drink coffee, Mauna Loa, volcano, lava, hand picked, estate, gourmet, farmer direct, gourmet gift, gift, 100%, pure kona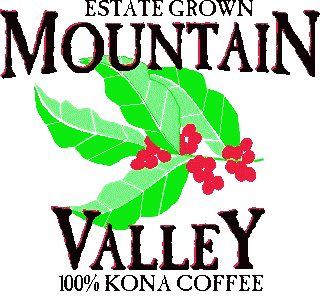 Our Coffee is aged one year
Our gourmet coffee is grown in the rich volcanic soil and lava of the Honaunau Valley at 1200 feet elevation below the slopes of Mauna Loa, an active volcano, in the "Kona Coffee Belt" on the Kona Coast.
The afternoon cloud shade with "Mauka" or Mountain showers, wind shelter, morning sunshine and of course, the volcanic soil are ideal conditions for the growth of Kona Coffee bringing out the richness of flavor known world-wide for its gourmet taste.
Mountain Valley Estate is a family-owned farm on which our coffee is hand-picked at the peak of its maturity, water processed, sun-dried and aged one year for its gourmet flavor!
We are sincerely confident that the flavor of our coffee will make you an avid fan of gourmet Mountain Valley Estate 100% Kona Coffee as many of our mail order customers can attest to. Please try our coffee and enjoy!
Hawaii, 100% Kona coffee, kona, Big Island, coffee, farm, world famous, drink coffee, Mauna Loa, volcano, lava, hand picked, estate, gourmet, farmer direct, gourmet gift, gift, 100%, pure kona
Mike & Penny Mack
Owners
---
Last Updated: 2/8/14